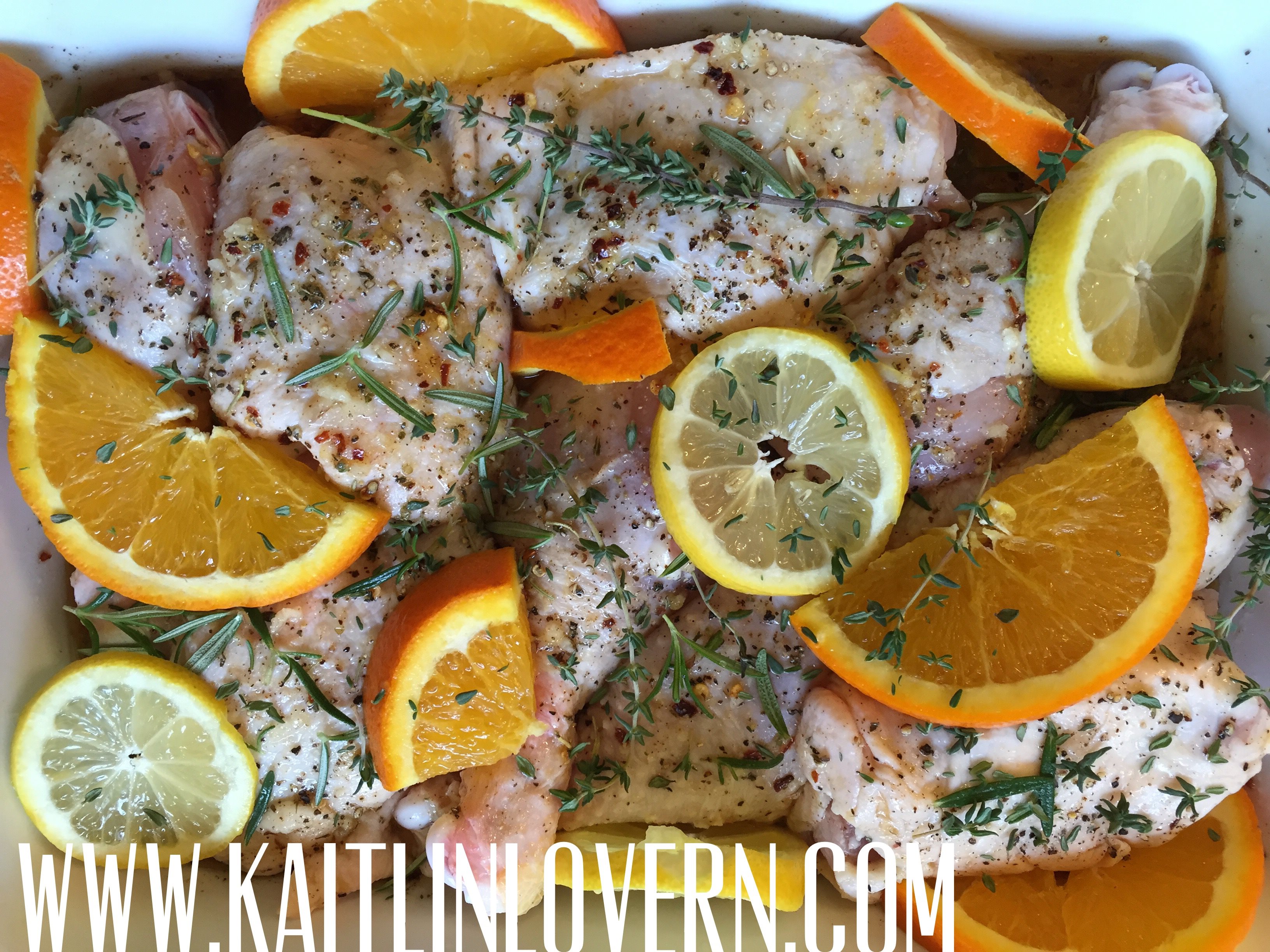 I have never seen raw chicken look so good!
Recipes that I love usually consist of three things: taste, presentation, and affordability. This recipe ranks high in all three of those categories. It was delicious, healthy, and SUPER easy. Great just to whip up for a weeknight meal or a casual dinner party that calls for something elegant yet simple!
The moment my husband walked through the door he said, "What is that smell! And when do I get to eat it!" You can trust that this recipe will leave your house smelling heavenly.
Ingredients
1/4 cup olive oil
4 cloves of garlic, minced
2 tablespoons sugar
2 whole lemons, one juiced and one sliced
2 whole oranges, one juiced and one sliced
1 tablespoon Italian seasoning
1/2 teaspoon paprika
1 teaspoon onion powder
1/4 teaspoon crushed red pepper flakes
Kosher salt and freshly ground pepper, to taste
10-12 pieces (about 4 1/2 lbs.) bone-in chicken parts (thighs and legs are best), pat dry
1 medium onion (any kind), thinly sliced
1 teaspoon dried thyme, or fresh chopped
1 tablespoon dried rosemary, or fresh chopped
Chopped fresh herbs (rosemary, thyme, parsley), for garnish, optional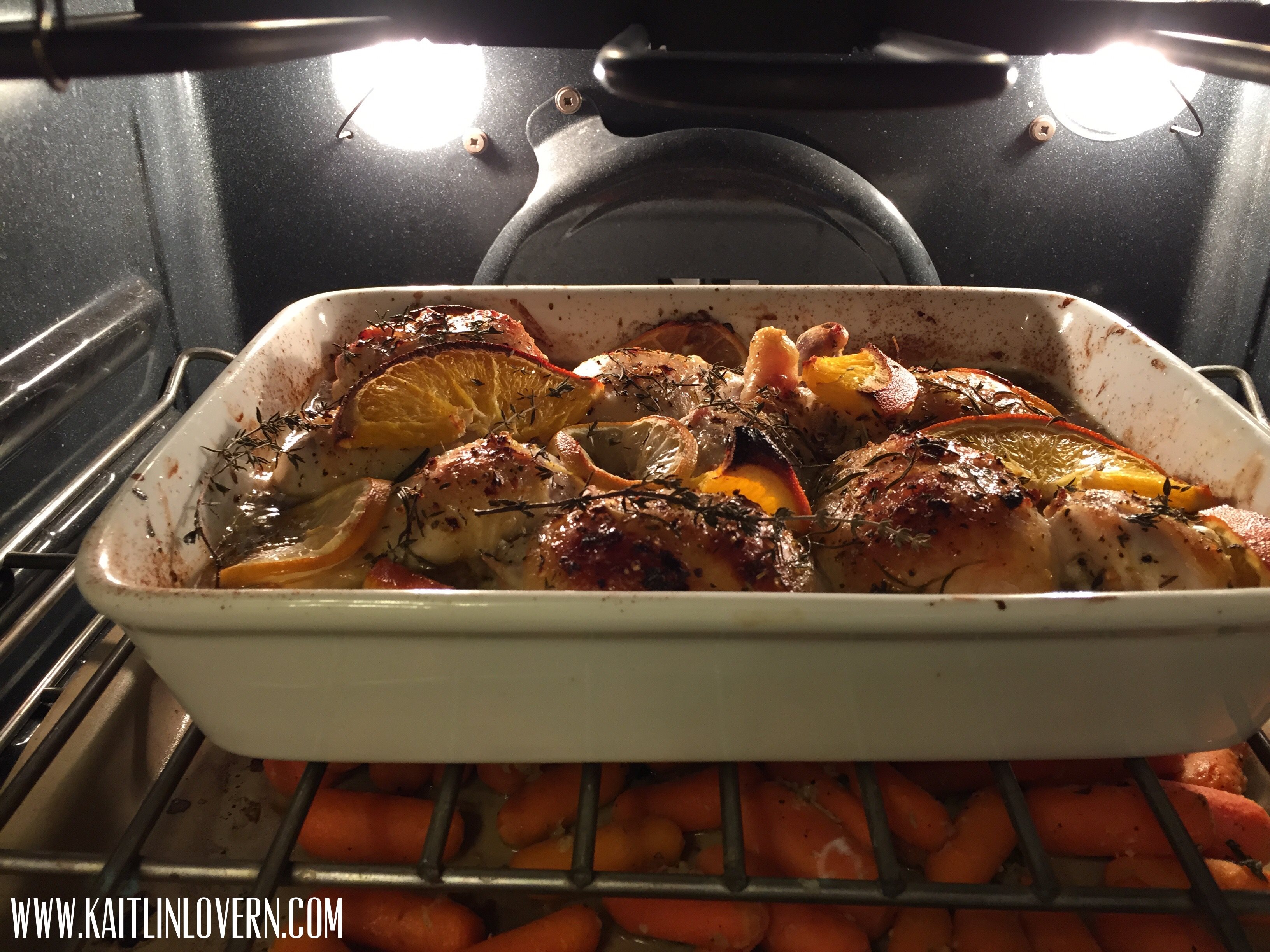 Dinner is a cooking!
Preheat your oven to 400 degrees F.
In a small bowl whisk together olive oil, garlic, sugar, lemon juice, orange juice, Italian seasoning, paprika, onion powder, red pepper flakes, and salt and pepper. Now folks, I do not measure all this stuff out. I have a good indication of what a "cup" looks like and just eye it out. (less dishes for me later)
Place chicken in a 13-in. x 9-in. baking dish. Place parts skin side up and spread them out evenly in the pan. Pour olive oil mixture all over chicken, turning pieces to coat all sides. (If you marinated the chicken in this mixture, still add it all in). Arrange slices of lemon, orange and onion around and under the chicken. Sprinkle all over generously with FRESH thyme and rosemary. SHAKE SHAKE SHAKE a lot of salt and pepper on the chicken. (most of this is going on the skin and won't be eaten)
Bake uncovered for about 1 hour, or until chicken is cooked and juices run clear. Remove parts to a serving platter and garnish with additional chopped fresh herbs, if desired.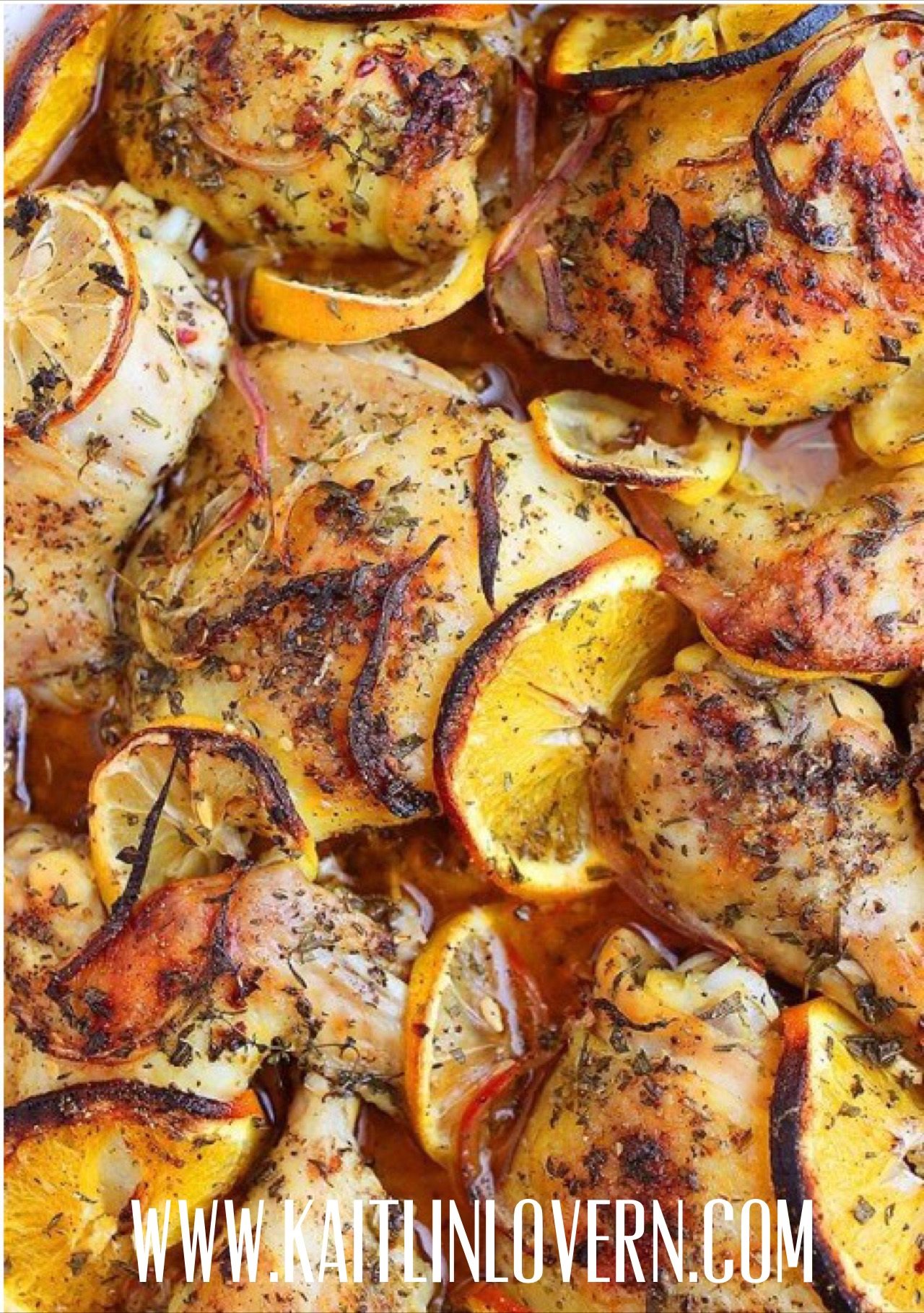 Photo worthy!
I'd recommend serving this dish with fresh green beens, garlic roasted carrots, fingerling potatoes, or lemon pepper asparagus!
ENJOY!
PS. I'd love to hear if your thoughts on this dish & if you'll be trying it!